Allied Health Professions Federation Scotland (AHPFS)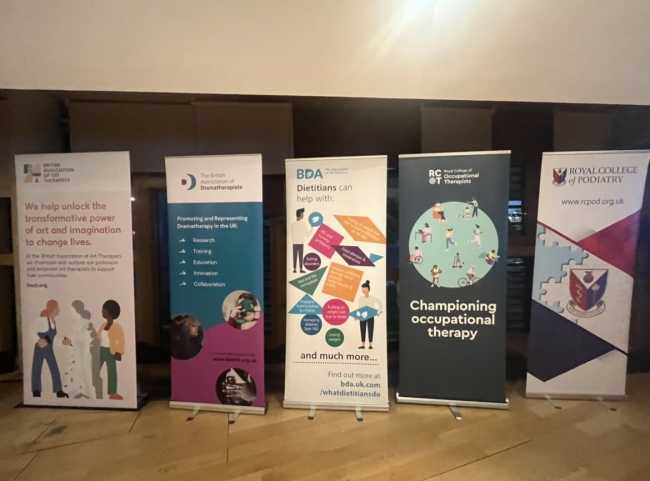 Below is a link to the blog for the event:
Below is a link to the speech from Alison Keir, Chair, AHPFS:
NHS Righttorehab Blog
Below is a link to a blog in relation to the NHS Scotland event from Tuesday 22 to Thursday 24 June where representatives from six Allied Health Professionals will be discussing thier professions role in Right to Rehab:
Allied Health Professions - Read all about them!
Allied Health Professionals (AHP) Compendium 2020
To celebrate AHP Day 2020 NHS Education Scotland, the AHP Federation Scotland, AHP Directors Scotland Group and AHP Social Media Group in Scotland have come together to produce this Compendium.
AHPFS Compendium 2023
The Allied Heath Profession Federation Scotland (AHPFS) is delighted to share with you Scotland Allied Health Professions Compendium 2023.
AHPFS represents 12 of the Allied Health Professions in Scotland. Collectively AHPs are the third biggest workforce in the NHS and with that we bring breadth, passion, knowledge, and the skills to drive and support change.
We are arts therapists, dramatherapists and music therapists, orthoptics, dieticians, radiographer, physiotherapists, speech and language therapists, orthotists and prosthetists, occupational therapists, paramedics, and radiographers. We work with people of all ages; we diagnose; we prevent, we treat and we help people live their best lives.
AHPs are leaders and advocates for change. Utilising AHPs to our maximum effect impacts and delivers true transformational change across health, social care, public health, education, the third sector and beyond. We bring different solutions to incredibly trickly problems across the sectors and across the life journey.
The original compendium was completed in 2020 and a new section to cover the AHP role in MH was added in 2023. We hope you will find this document interesting and easy to read – it showcases the breadth of work carried out by AHPs across Scotland.
A link to the compendium is here: AHPS Compendium 2023 e-use FINAL